Potter Puppet Pals was created by Neil Cicierega in 2003. The first ever video was a flash animation broadcasted on Newgrounds. Since then, the show has gained popularity.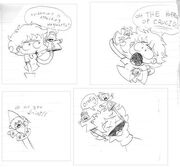 In 2003, Emmy Cicierega was drawing with her friends. They were puzzled with what to draw, but eventually they had an idea, that one day would be something big. Emmy and her friends thought it would be fun to draw the characters from Harry Potter as puppets. The finished result is shown to the left. Though, this drawing wasn't the end. One wasn't enough for Emmy and her friends, and she soon drew another.
Ad blocker interference detected!
Wikia is a free-to-use site that makes money from advertising. We have a modified experience for viewers using ad blockers

Wikia is not accessible if you've made further modifications. Remove the custom ad blocker rule(s) and the page will load as expected.